Research: Product Interaction
Design and Marketing
One of the things that keeps me very busy at the moment is writing my thesis,
being a mandatory part of getting my master's of science degree. I have
a background in Economics but convinced the faculty that design is an economic
entity of importance, especially related to high technology, marketing and branding.
The task was not easy, design is traditionally, within the academic field of
Economics and Business, not looked upon as being a strategic element. Naturally
I begged to differ. Anyway, I was blessed with a supervising professor that
"gets it." He's not a designer but a marketing guru, yet he
talks about Apple and Target and the way they used design to differentiate their
offering from competitors. Whenever I have a discussion with him he reminds
me of the fact that design matters, now more than ever.
Product Interaction
Many products, from books to mobile phones, can be purchased online. However,
with product complexity and price increasing the odds of online purchasing diminish.
It may currently not be possible to make the experience of buying a product
online entirely comparable to buying an item at the mall or at a downtown shop,
but present technologies and interactive media allow for stunning possibilities.
Nonetheless, customers still prefer to shop for certain items in a physical
environment, yet innovations in design, business and technology suggest these
conditions are slowly shifting.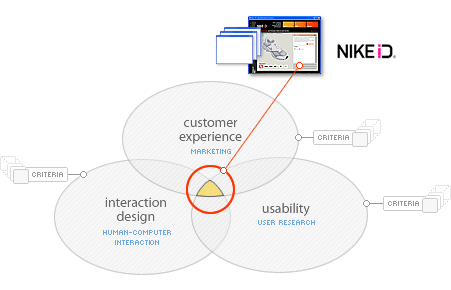 Product interaction combines many specific academic fields, even so this thesis
will be restricted to researching the relation of customer experience (marketing),
interaction design (human-computer interaction) and usability (user research)
from a business point of view. This thesis will in addition attempt to assess
the current state of technology as it relates to products and web site assimilation,
including the rate of implementation and adoption of given technologies. But
what exactly constitutes online product interaction? How is it integrated in
the product strategy, and how is customer experience addressed? Examples of
online product interaction can be found on several web sites and do not merely
involve high technology products. Online commerce is here to stay, but is online
product interaction more dream than reality? How significant is the impact on
both seller and buyer? Can technology and design provide companies with the
means to improve the online shopping experience?
Asking For Your Help
I would be interested to hear some general feedback, but more importantly I
would like to gather different examples of online product interaction. Do you
have any good examples? One of the examples I mentioned above is NIKE
iD. Not surprisingly most interactive product displays use Flash, Quicktime,
Java or similar technologies. What do you think about these elements of interaction?
This item was posted by dhilhorst on Thursday, June 17th, 2004.
Categories:
You can follow comments on this item via the RSS 2.0 feed.
Comments are closed.