FAST: Koenigsegg CCR
Introduction
So, you would think Sweden is only known for producing extremely safe but dull
cars, such as Saab and Volvo. Now, think again. Christian von Koenigsegg grew
up with the dream of creating the perfect sportscar. After several years of
planning he launched the Koenigsegg project in 1993. Designer David Craaford
provided a design concept following Christian's guidelines. The vikings
now have a car that is going to make some noise in the supercar scene: the Koenigsegg
CCR.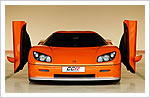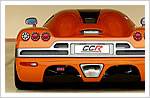 Design
First impressions: dynamic stance, futuristic and aggressive attitude. Now
that's how a decent sportscar should come across. Key characteristic elements:
low to the ground, large side air intakes, smooth yet aggressive lines and big
wheels (no, not over the top 24" Giovanna wheels, those are tacky.) Moreover
the specific shade of orange used on this car is just lickable. The cockpit-like
semicircular windscreen is a nice feature and makes the CCR different from the
usual suspects. I can sense from the looks of this car that it has been crafted
with love and attention for detail. The Koenigsegg shows yet another iteration
of how to open a door — interesting concept.
Previous designs, especially early ones, of the Koenigsegg have not always
seduced me. Too boxy, too plain – while they certainly looked decent there
was something missing. Koenigsegg have fine tuned design elements in their current
(2004) CC8S and CCR models, definitively an improvement. The rear of the CCR
deserves to be mentioned seperatly: curved lines and attention to detail. The
rear hood is made of one huge part of carbonfibre, modelled to incorporate both
the avant-garde bridge-like air intake below the rear window and an integrated
wing. My only observation would be the somewhat odd gray parts (which encompass
the number plate, among others.)
Designer: David Craaford
Facts & Figures
Acceleration: 0-100km/h (0-60mph) 3.2 sec.
1/4 Mile: 9 sec. (146 mph)
Speed: 395 km/h (242 mph)
Engine: 4.7 liter, V8
Power: 806 bhp at 6.900 rpm
Torque: 920 Nm at 5.700 rpm
Note: this car was suggested by Stefan
Visser
This item was posted by dhilhorst on Tuesday, April 27th, 2004.
Categories:
You can follow comments on this item via the RSS 2.0 feed.
Comments are closed.