Customize your iPhone: SummerBoard
Update: SummerBoard 2.1+ makes much of this tutorial inaccurate, but the theme instructions still work. I'll be writing an updated tutorial shortly to reflect the changes and additions.
Note: Before following this tutorial, make sure you have everything you need »
The first tutorial in this series covered using DockSwap to change your iPhone's Dock background, specifically replacing it with one that matches the Dock on the iPod Touch:

This was fine and dandy until yesterday, when a new version of SummerBoard (an app which allows customization of the iPhone's SpringBoard, or home screen) was released. This new version supports themes and various other settings, but most importantly it appears to prevent DockSwap from doing its job. Thankfully, we can now take advantage of SummerBoard's new theme support to set a custom Dock background, home screen wallpaper, or both.
Summer lovin'
First thing's first: fire up Installer.app on your iPhone and install SummerBoard (the current version as of this writing is 2.0). If you already have DockSwap installed, there's no reason to uninstall it; it just doesn't affect any change when you use it. However, if you'd like to save some space, you can go ahead and remove it.
SummerBoard 2.0 offers the following home screen (aka SpringBoard) customization goodness:
Scrolling application icons
Scroll Snap (for each row of icons)
Wallpaper under home screen icons
Themes (Dock and wallpaper images)
Mini Dock (which does exactly what it says)
In addition to those main features, there are extra settings which give you additional control over your home screen: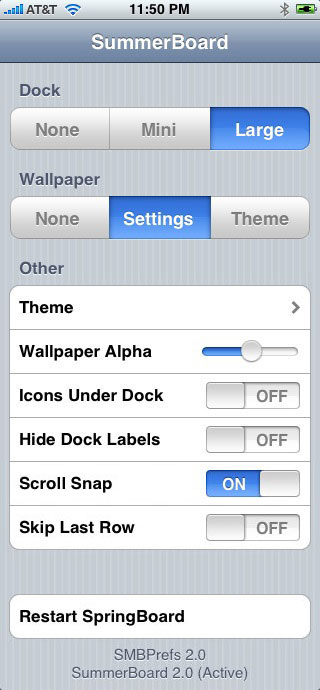 There isn't much need to describe in detail what each of these settings does, plus it's much more fun if you just play around with them and see for yourself.
Simple themes
SummerBoard 2.0 includes four themes by default:
Default (aka how your iPhone shipped)
Leopard
Panther
SummerBoard
Each theme is comprised of three images (pixel dimensions follow each file name):
Dock.png (320×91)
MiniDock.png (320×37)
Wallpaper.png (320×480)
Creating your own custom theme is simply a matter of creating each of those images, placing them in a folder and then copying that folder to the proper location on your iPhone.
Adding a custom theme
There's really no end to the number of custom themes you can create using an image editor and some free time, so I'll leave that process to you (after all, this isn't an image editing tutorial). We will, however, walk through the simple process of transferring a custom theme to your iPhone.
First, we need a custom theme—for this example, I've created a theme based on the iPod Touch home screen, complete with plain black wallpaper (in case don't want your "lock screen" image showing up behind your icons). For those of you who already followed my earlier tutorial on replacing your Dock background (see the Dock screenshot at the beginning of this tutorial), this will allow you to have the same look with SummerBoard 2.0 installed:
After decompressing the archive, you will have a folder named "Touch" that contains the required image files.
Next, connect to your iPhone via SFTP (read the instructions if needed), and navigate into Library/SummerBoard/Themes (the full path is /private/var/root/Library/SummerBoard/Themes), where you'll see the directories of the four pre-installed themes mentioned earlier. Once there, upload the entire "Touch" folder (its path should be /private/var/root/Library/SummerBoard/Themes/Touch).
Now return to your iPhone's home screen (press the "Home" button) and launch SMBPrefs, then press "Theme" and select "Touch" (the theme we just uploaded). Press the "Home" button once more to return to your home screen and see the new theme in place, looking something like this:
Share your customizations
If you feel inspired and create a cool theme, upload an archive to your site or other file repository and link to it in the comments of this entry. At some point in the near future, iPhone customization sites will begin to support themes, but until then it'll be fun to pass them around.
Even if you prefer to not share your custom images, be a good sport and share any cool customizations with the entire class by posting screenshots of your customizations to Flickr and adding them to the iPhone Customization group.
This item was posted by Dan Rubin on Friday, September 14th, 2007.
Categories:
You can follow comments on this item via the RSS 2.0 feed.
Comments are closed.