Blogger. Templates. Designed.
Note: My tem­plate set has been updated — get the scoop here »

I've been wait­ing to write about this for months now. Really. Blog­ger has finally relauched with a snazzy new look cour­tesy of Dou­glas Bow­man and Adap­tive Path. The new Blog­ger fea­tures not only a nicer, rounder design, but also a much-improved process for cre­at­ing and man­ag­ing blogs — and a bevy of fresh tem­plates designed by some famil­iar names.
Brand Name Designers
Doug recruited some ter­rific design­ers to design and style brand new, standards-based tem­plates for the relaunch (in addi­tion to the fine tem­plates he con­tributed), and I was hon­ored to be one of this select group: Dan Ceder­holm, Todd Dominey, Dave Shea and Jef­frey Zeld­man all cre­ated some fan­tas­tic designs for the new tem­plates (view a list of all the tem­plate designs).
Beau­ti­fully Generic
The trick with this project was to design some­thing visu­ally fetch­ing, but not too per­sonal (the pri­mary func­tion is a reusable tem­plate, which might dis­play many dif­fer­ent types of con­tent), yet indi­vid­ual enough to inspire some­one to actu­ally use it.
"Your tem­plates really stand out to me as hav­ing a per­son­al­ity while still pre­sent­ing a 'generic' feel…" —Dan Ben­jamin
My pri­mary goal was to design a base tem­plate that would work in many sit­u­a­tions, for many dif­fer­ent peo­ple. The best way to accom­plish this from the out­set was to limit the color palette to sim­i­lar hues, which also made it eas­ier to cre­ate alter­nate color schemes that have a fairly dif­fer­ent look with­out hav­ing to change any of the base elements:
For the design, I wanted to play a lit­tle with gra­di­ents, as well as try some lay­er­ing of back­ground ele­ments in CSS to cre­ate sub­tle effects (as it turned out, they are extremely sub­tle). I ended up apply­ing gra­di­ents to every pri­mary ele­ment, though chances are you won't notice them all right away.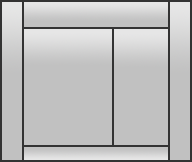 The sub­tle gra­di­ents gen­tly direct the eye down the page, and cre­ate the slight decrease in con­trast of the back­ground arrows in the side­bar as they move fur­ther down the page (get­ting closer to the darker color of the gradient).
Stan­dards for the People
The num­ber of peo­ple who will make use of these tem­plates is astound­ing (it's already started), and the web is going to be a much bet­ter place for the effort (just think of the hun­dreds of thou­sands of sites that will soon be using well-designed standards-based markup!). I'm very happy with how Thi­s­away turned out, espe­cially the alter­nate col­ors. I think it fits in nicely with the look and feel of the new Blog­ger (though that was entirely acci­den­tal, since none of us saw the design before Sun­day), and com­pli­ments the other new designs while remain­ing unique.
Con­grat­u­la­tions, kudos and thanks to Ev and the rest of the Blog­ger crew, as well as Doug and the folks at Adap­tive Path for allow­ing such a ter­rific team of design­ers to con­tribute to this project.
Blog­ger tem­plate ques­tions? Please search and/or post to the offi­cial Blog­ger Help Google Group—you are much more likely to get a response there than by email­ing me.
This item was posted by Dan Rubin on Wednesday, May 12th, 2004.
Categories:
You can follow comments on this item via the RSS 2.0 feed.
Comments are closed.