FAST: Lamborghini Murciélago
Introduction
Before I go on with this first post let me quickly introduce you to this new
weekly section on SB entitled FAST. I have a passion for cars, especially fast
cars. Nevertheless it's not all about facts and figures — I especially
value the design of a car. FAST will present you with an exotic car every week (price and exclusivity are not the only criteria). The good thing: you can contact
me and make suggestions, or send in your own short review.
You can be sure to find the stylish Italians, the classic British, the big
Americans, the powerful Germans and the fast Japanese, but there's also
those rare and unique vehicles from all over the world. FAST will mainly review
the design of the car, with a quick overview of the most important facts and
figures related to performance. Without further ado, let me introduce you to
our first candidate: the Lamborghini Murciélago.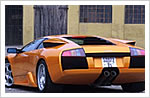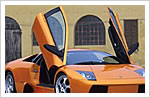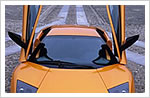 Design
Lamborghini's have not really been known for their elegant design, and
probably rightly so. This reputation goes way back but got even worse with the
Countach, mainly produced in the late 1970's. The Murciélago was introduced
in 2001 after the somewhat successful Diablo. One characteristic design element
of Lamborghini are its — now classic — swivelling doors, definitively not usable,
yet very cool for looks. The lines of the Murciélago design are composed
of straight lines with plenty of edges, a nice effect in my opinion. A peculiar
element is the air flow entrance on either side of the car, near the rear (expanded
on the first picture) which open above a certain speed. Both useful for cooling
the engine and a lovely, although maybe somewhat overdone, feature.
Lamborghini's are not about elegance or details but about performance
and bold attitude. Just look at those pipes, don't they just beg to roar?
The rear of the car is definitively odd at first sight, especially the big
space below the tail lights. That notwithstanding it's a nice butt. Overall
it just comes across as a mean beast, ready to rip some asphalt. It's
obviously not as elegant as some other Italian rivals but it surely has spirit,
passion and sheer aggressiveness. Now let's hope its parent company, Audi,
will not Germanise Lamborghini too much in the future.
Designer: Luc Donckerwolcke
Facts & Figures
Acceleration: 0-100km/h (0-60mph) 3.6 sec.
1/4 Mile: 12 sec. (121mph)
Speed: 330km/h (205mph)
Engine: 6.2L, V12 60 degrees
Power: 580 bhp at 7500 rpm
Torque: 650 Nm at 5400 rpm
This item was posted by dhilhorst on Friday, April 9th, 2004.
Categories:
You can follow comments on this item via the RSS 2.0 feed.
Comments are closed.