ATM Contingency Design
Everybody needs to use an ATM at some point. Personally I would like all money
to be virtual, no coins, no paper, nothing. Of course there are some reasons
to why that's not the case, but I will not discuss those here. Rather
I will have a look at an ATM machine I recently used and in my opinion has some
design issues.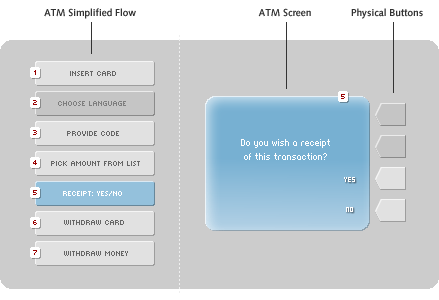 The ATM flow has been simplified to 7 basic steps. I insert my card, choose
a language (optional, depending on card), provide the machine with my personal
code, pick an amount that is listed (alternatively I can choose to manually
input an amount, I left this option out to keep it simple), I decide whether
I want a receipt or not, I withdraw my card and finally I withdraw my money
(important).
The problem I have, as you will soon discover, is with step 5. As such there's
nothing wrong with providing a receipt of course. But I never need one, so I
always hit NO and don't even think about it. It actually
becomes a challenge to go through all steps as fast as possible—I'm
on autopilot and know all the steps by heart.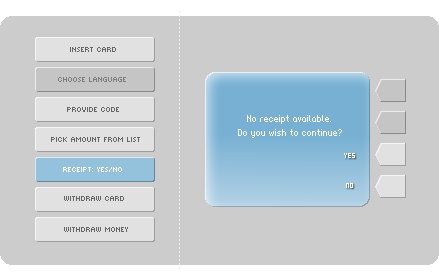 Now the above graphic is exactly the same as the first one, except that step 5 has
changed. The problem is that the machine has no paper left, so you can't
get a receipt. This happens occassionally and I can't really blame the machine. If it's empty, it's empty. Besides
I never need a receipt anyway. But I'm on autopilot, remember? I'm
accustomed to their normal flow. It's a bit like software installations—no
one is reading the license agreement, you just select "I agree"
and hit next.
Not surprisingly, I don't actually read the message and hence don't
notice it's actually different. I hit NO automagically.
What? The machine spits out my card and aborts the transaction.
Uh? So I go through all the steps again and discover the message
in step 5 has actually changed. So instead I hit YES and get
my money. Duh!
If you're going to alter the normal flow of an operation please let me
know. Make the screen red or something. Just change it from the default design.
It's not my fault that the machine has no paper left to print out receipts.
Once people get the gist of a system they become used to it. If something is
going to change you should better have a good reason for it and clearly indicate
to users it's something different than they're used to.
This item was posted by dhilhorst on Saturday, April 3rd, 2004.
Categories:
You can follow comments on this item via the RSS 2.0 feed.
Comments are closed.