The Art of Navigation
When build­ing a web­site there's an inevitable moment when it is required you think hard about nav­i­ga­tional ele­ments. I'm not talk­ing about infor­ma­tion archi­tec­ture here. Infor­ma­tion archi­tec­ture usu­ally helps answer­ing the ques­tion: "How will this func­tion?" (among oth­ers). Nope. I'm try­ing to answer the ques­tion "How will this look?" – purely from a graphic design perspective.
The above men­tioned stage of the design process is one that I spend a con­sid­er­able amount of time on and par­tic­u­larly enjoy within any project. In this post I want to share my lat­est exper­i­ment on nav­i­ga­tion design.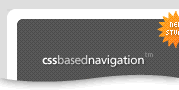 In my quest for ele­gant, clever and nice nav­i­ga­tion design I decided to let go of cer­tain require­ments. In this case I decided to ignore a few usabil­ity (and acces­si­bil­ity) best prac­tices (note: this should of course be avoided in real life imple­men­ta­tion).
How­ever, I've set myself a few con­straints which make per­fect sense, even in an exper­i­ment. This design should of course be con­structed using the sounder XHTML and CSS com­bi­na­tion, as opposed to tables. Fur­ther­more, once CSS is dis­abled, a nice unordered list should remain. Other than that the sky is the limit.
The main pur­pose of this design exper­i­ment is to see how far we can push CSS. Is it pos­si­ble to cre­ate the most com­plex nav­i­ga­tion (in terms of graphic design) and have it marked-up as an unordered list? The answer of course is "Yes!". And there are a few design­ers who ele­gantly proved this point in the past.
As said and proved by many before – CSS can han­dle your wildest dreams. Unfor­tu­nately we are cur­rently only lim­ited by the pace of web stan­dards imple­men­ta­tion in mod­ern browsers (specif­i­cally one browser, no names of course). This small exper­i­ment should work in most mod­ern browsers, but your mileage may vary. Com­ments are more than wel­come, but keep in mind that this is only a trial in design, not in prac­ti­cal imple­men­ta­tion as such.
This item was posted by Dan Rubin on Thursday, December 18th, 2003.
Categories:
You can follow comments on this item via the RSS 2.0 feed.
Comments are closed.