This item was posted by Dan Rubin on Friday, October 9th, 2009.
Wash­ing a fork is a spe­cial skill, often requir­ing an exten­sive apprenticeship—usually at the hands of your mother, father, or skilled caregiver—and years of prac­ti­cal application.
If you don't get it right, food will remain stuck between the tines. If there is food between the tines, the threat level is ele­vated to dis­gust­ing (aka "green").
Many peo­ple leave food between the tines when they "wash" their forks. Many peo­ple also find a sink full of dishes dis­gust­ing. The dif­fer­ence between these groups, in my expe­ri­ence, looks some­thing like this: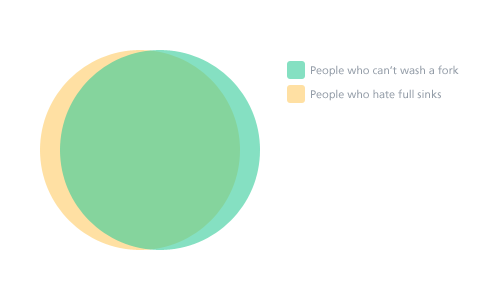 I leave my sink full for weeks at a time. But when I wash my dishes, they are spot­less, right down to the space between the tines.
This behav­ior illus­trates how my brain func­tions: Extreme pro­cras­ti­na­tion, with per­verse atten­tion to detail at the time of execution.
This may also be the best way to under­stand the lack of love and affec­tion this blog site has received over the last year (or more). Blog­ging has become my sink: ideas pile up for days weeks months on end, while I spend time think­ing about redesign­ing, refo­cus­ing, and clean­ing things up in gen­eral. As the site con­tin­ues to be ignored, strange things begin to grow between the tines creep into the exist­ing site design, or sim­ply break outright.
A site can only lie dor­mant for so long before peo­ple write it off, much like a fork can only sit in a glass of water for a cer­tain period of time before it starts to rust and cor­rode. How­ever, an author must also be inspired by his envi­ron­ment, and some­times, when that envi­ron­ment ceases to inspire, the process of cre­at­ing a new one can take a lot of scrub­bing and elbow grease.
Trust me: when I'm ready, the tines will be spotless.
Categories: